43-101 Report Dios Padre
Dios Padre in Situ 43-101 Inferred Resource November 24, 2020
Regency Silver Corp. has prepared a NI 43-101 Technical Report ("the Technical Report"). The purpose of this Technical Report is to describe the silver-gold compliant mineral resources contained in the Dios Padre Property, as required by NI 43-101. Information and data described within the Technical Report and the conclusions reached including the estimated Inferred Mineral Resource are based on the 2018 drill program completed by Regency, and augmented by the previous, recent drill programs (Silver Standard Resources Inc. 1995-1996, First Majestic Resource Corp. – 2006, and NS Silver Inc./NS Gold Corporation -2012-2013).

The Technical Report indicates an inferred resource of 1.249 mt @ 236.18 g/t AgEq = 9.483 million ounces of AgEq consisting of:


1.249 mt @ 221.70 g/t Ag = 8.902 million ounces Ag
1.249 mt @ 0.17 g/t Au = 0.581 million ounces Ag/Eq (6,757 ounces Au)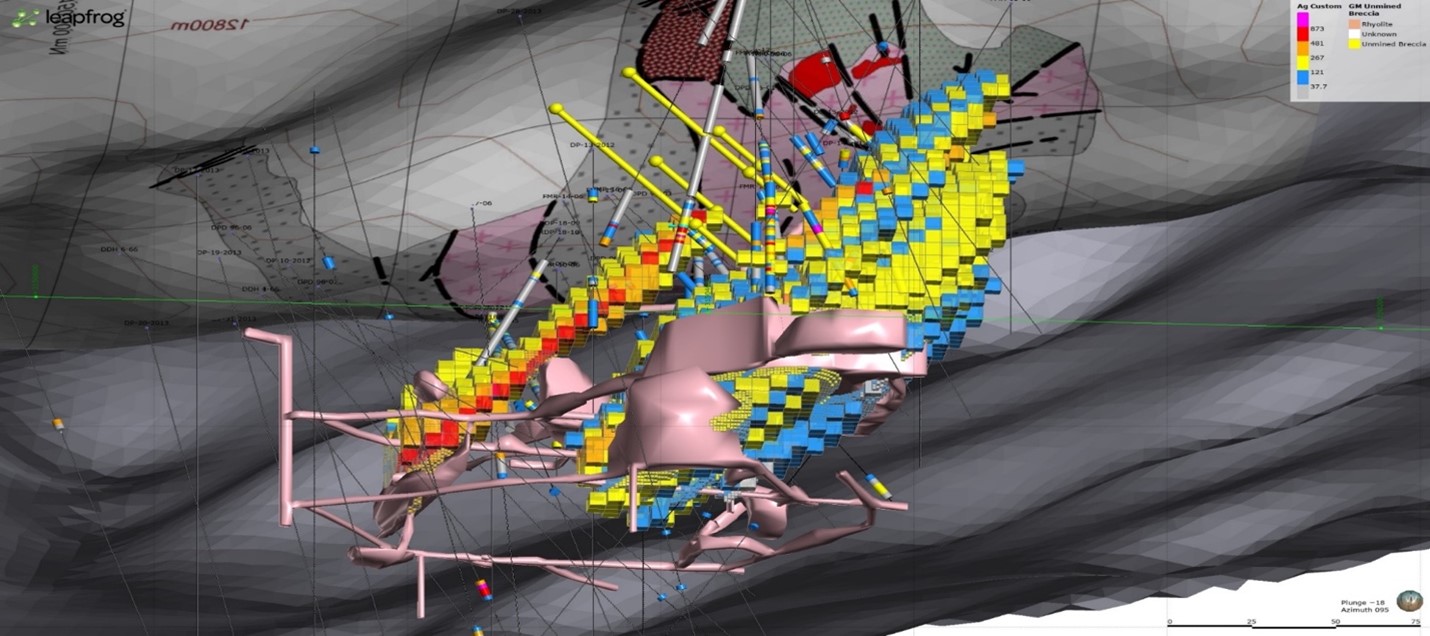 Average Grade
Metal Content
Cut‐off (AgEq)
Tonnes
AgEq
Ag
Au
AgEq
Ag
Au
g/t
Mt
g/t
g/t
g/t
million t.oz
million t.oz
million t.oz
100
1.363
225.79
211.35
0.17
9.893
9.260
0.007
110
1.322
229.49
215.05
0.17
9.755
9.141
0.007
120
1.249
236.18
221.70
0.17
9.483
8.902
0.007
130
1.186
242.03
227.52
0.17
9.232
8.679
0.006
140
1.094
250.99
236.47
0.17
8.832
8.321
0.006
150
0.976
263.80
249.21
0.17
8.281
7.823
0.005
160
0.887
274.72
260.07
0.17
7.839
7.421
0.005
Inferred Mineral Resource Estimate Dios Padre Property for selected cut‐off grades. Note: the formula for silver equivalent used is: AgEq (g/t) =( (Ag(g/t)*Ag price*Ag recovery)+ ([Au (g/t)*Au price*Au recovery))/(Ag price*Ag recovery) based on a silver price of US$17.00/oz and a gold price of US$1479/oz, current as at July 2019, and assumed metallurgical recoveries of 92% Ag and 91% Au.
| Classification | Inferred |
| --- | --- |
| Cutoff Grade g/t AgEq | 120 |
| Tonnes | 1,249,000 |
| Est. Silver Grade g/t Ag | 221.70 |
| Est. Gold Grade g/t Au | 0.17 |
| Contained Silver Troy ozs | 8,902,000 |
| Contained Gold Troy ozs | 6,757 |
Inferred Mineral Resource Estimate, Dios Padre Property.
An 'Inferred Mineral Resource' is that part of a Mineral Resource for which quantity and grade or quality are estimated on the basis of limited geological evidence and sampling. Geological evidence is sufficient to imply but not verify geological and grade or quality continuity. An Inferred Mineral Resource has a lower level of confidence than that applying to an Indicated Mineral Resource and must not be converted to a Mineral Reserve. It is reasonably expected that the majority of Inferred Mineral Resources could be upgraded to Indicated Mineral Resources with continued exploration. The Mineral Resource has reasonable prospects of economic extraction at a cut‐off (B/E) grade of 120g/t silver equivalent.