Press Releases
Regency Silver Announces Commencement of the January 2023 Dios Padre Drill and IP Program
January 10, 2023
Vancouver, BC – January 10, 2022 – Regency Silver Corp. ("Regency Silver" or the "Company", TSXV- RSMX and OTCQB-RSMXF) is pleased to announce that the drill has arrived on site and drilling will recommence this week at its flagship Dios Padre Property in Sonora, Mexico. The drill program is being supervised at site by Regency Silver Executive Chairman, Bruce Bragagnolo, and Director, Michael Tucker, P. Geo.
Regency anticipates drilling a minimum 3,000 metres as an initial follow up to the successful drilling program completed in August, 2022. Regency's first drill program, post IPO, included hole REG-22-01 which yielded an intercept of 4.7 g/t gold, 0.67% copper and 23 g/t silver over 53.8 metres, and included 35.8 metres of 6.84 g/t gold, 0.88% copper and 21.82 g/t silver, starting at 420 m depth down hole along with 13.97 g/t gold, 50.25 g/t silver and 1.11 % copper over 9.8 metres starting at 460.5m down hole. Drilling will focus on expanding this intersection both up and down dip as well as laterally to the east and west as the intersected mineralization is unconstrained in all directions. The drill has in excess of a 1,000m capacity.
An Induced Polarization geophysics program to provide 3D information to a depth of 800m is also scheduled to begin this week.
The current drill and IP program is fully funded from the proceeds of our recently completed private placement of 10,795,000 common shares at a price of $0.20 per share for gross proceeds of CAD$2,159,000. The current drill program is scheduled to last until the middle of March, 2023. Assay results are expected to take up to four weeks from the date of delivery of material.
Gold-Copper-Silver mineralization in REG-22-01 is largely breccia hosted, with sulphides (pyrite, chalcopyrite) forming the breccia matrix. The core of the mineralized zone sits within and adjacent to a felsic intrusive body, though mineralization is present both within the felsic unit as well as the host andesites.
Both rock units are strongly altered to white mica and silica. Gold and copper values correlate well with increased sulphide abundance, and coarse visible gold (VG) was found in some of the more gold-rich areas. The current hypothesis is that this zone represents a down-dip extension of the Dios Padre silver mine where we have moved further up the temperature gradient of the system from an Ag-Pb-Zn dominant assemblage in the old mine workings, to a Au-Cu dominant assemblage down-dip.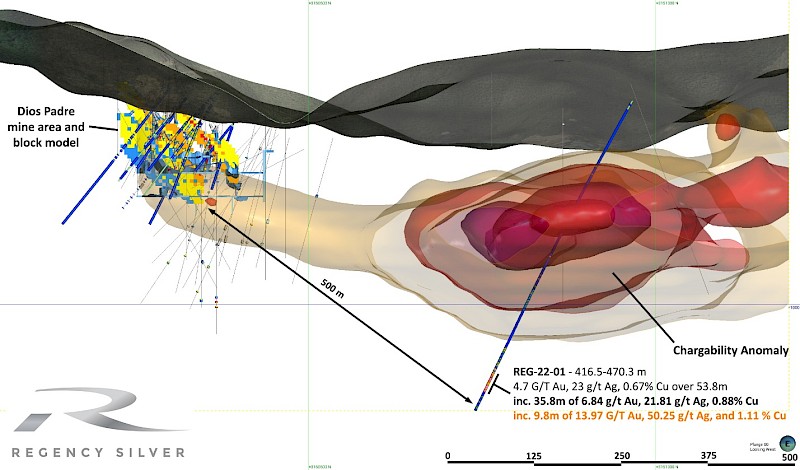 Figure 1: Cross section illustrating location of high-grade mineralization in REG-22-01 relative to historic mine workings and block model. The best mineralization in REG-22-01 sits underneath the modelled chargeability anomaly, but this is due to a limited penetration depth for the historic IP survey. The current 3D survey will be able to see to depths greater than has been observed before on the property and will help refine exploration and expansion drill targeting surrounding the intercept in REG-22-01.
The current hypothesis is that this mineralization is driven by magmatic fluids and that the mineralization intersected in REG-22-01 represents a step closer to the magmatic source. The current drill and IP program is designed to determine more specifically what type of broad, mineralizing system is present at Dios Padre.
Bruce Bragagnolo, Executive Chairman stated: "We are excited to begin the next chapter of the growth of Regency Silver. The current drill and IP program is designed to verify management's model of a large, district scale magmatic-hydrothermal gold-copper-silver system."
For further details about Regency Silver please visit the Company's website at www.Regency-Silver.com.
Technical Information
The technical information contained in this news release has been reviewed by Company director Michael Tucker, P.Geo, who is recognized as a Qualified Person under the guidelines of National Instrument 43-101. Mr. Tucker is a director of the Company and for that reason is not considered independent. Mr. Tucker has read and approved the technical contents of this news release.
ABOUT REGENCY SILVER CORP.
Regency Silver is a gold-copper-silver exploration company focused on the Americas. Regency Silver is led by a team of experienced professionals with expertise in both exploration and production. Regency Silver's flagship project is the Dios Padre gold-copper-silver project in Sonora, Mexico.
Contact Information
Regency Silver Corp.
Bruce Bragagnolo, Executive Chairman
(604) 417-9517
Email: moc.revlis-ycneger@ecurb
Gijsbert Groenewegen, Chief Executive Officer Phone: 1-646-247-1000 Email: moc.revlis-ycneger@sjig
Neither the TSX Venture Exchange nor its Regulation Services Provider (as that term is defined in the policies of the TSX Venture Exchange) accepts responsibility for the adequacy or accuracy of this release.
Cautionary Note Regarding Forward-Looking Statements: This news release includes certain forward-looking statements and forward-looking information (together, "forward-looking statements"). All statements other than statements of historical fact included in this release, including, without limitation, statements regarding the optioning of the Project by the Company. There can be no assurance that such statements will prove to be accurate and actual results and future events may vary from those anticipated in such statements. Important risk factors that could cause actual results to differ materially from the Company's plans or expectations include the risk that regulatory changes, fundraising, and risk associated with mineral exploration, including the risk that actual results of exploration will be different from those expected by management. The forward-looking statements in this news release were developed based on the expectations of management, including that Exchange acceptance for the proposed transaction will be obtained, conditions will be satisfied, required fundraising will be completed and the other risks described above will not materialize. The Company expressly disclaims any intention or obligation to update or revise any forward-looking statements whether as a result of new information, future events or otherwise, except as otherwise required by applicable securities legislation.